Home Automation
Sound Specialist delivers fully integrated control solutions that simplify lifestyle sub-systems, such as audio and video distribution, home theatre, surround sound setup, lighting, security, motorized window treatments, temperature and more on a common platform to simplify the user's experience.
Intertoms provide hands-free features to let you call from the main unit to all the other rooms and family members. Never be more than a few steps away from easily monitoring a child or family member. Know who's at the door before you answer it or even get more security with a high resolution camera.
Set warm and comfort moods for dining, movies or entertaining; create a soft light pathway to the bathroom or kitchen at night; turn all indoor and/or outdoor lights on or off from a central location; coordinate landscaping lights for drama and beauty; or use the internet to remotely control your home when away.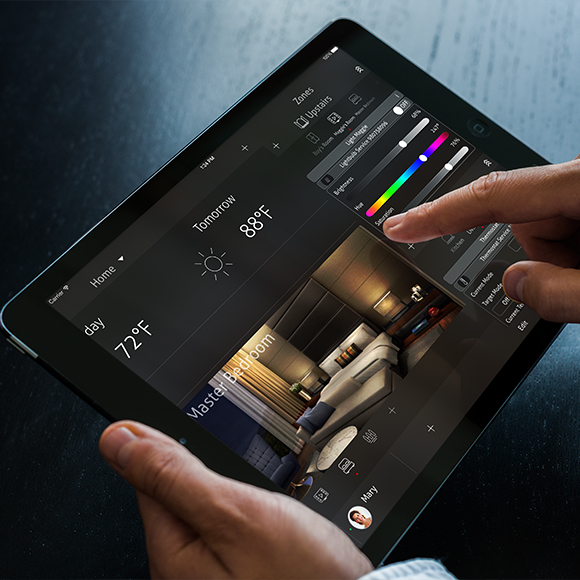 "Communicating with Sound Specialist has been a pleasure. When we need help, they return our
calls right away and come when it is convenient for us, even after normal working hours"
"We feel lucky to have found someone as skillful and knowledgeable as Rob who we can trust in our home.
Having Sound Specialist at our home is always a welcomed experience. Thanks so much for all your help"
"Thank you so much for spending the time with Alexi and I on Saturday evening. We were both very impressed
with your onsite support and your relaxed, friendly, highly informative, non pushy consultation"
"We are very pleased with Sound Specialists consultant, located in Ft. Lauderdale, Florida. Rob really
made our home feel safe. He really focused on our family's concerns and made it all happen for us"
"The doors to my house are always open to all of you as friends, and to all future prospects of Sound
Specialist who truly want to experience the passion of the "best that it can be" in home entertainment"
"Everything was done very professionally, measurements were precise, and wires were all hidden in
the walls. I will recommend Sound Specialist to everyone. Great job guys, keep up the good work!"
"My son's computer crashed during his senior final exams. Rob from Sound Specialist made an emergency
visit after-hours and got him back up in no time. We will forever be indebted to you. Thank you!"